Olveston Historic Home
Olveston Historic Home
& Theomin Gallery
Olveston was built for Dunedin businessman, collector and philanthropist David Theomin, his wife Marie and their two children Edward and Dorothy.
Designed by acclaimed English architect Sir Ernest George, Olveston was built as a family home furnished with fine art, furniture and artefacts purchased from all around the world.
Intended for future generations of Theomin's to enjoy, this was not to be the case as both the Theomin children died without heirs. Surviving the death of her father, mother and elder brother, Miss Dorothy Theomin lived at Olveston until her death in 1966, when it was discovered the house and the original contents were gifted to the City of Dunedin.
Opened as a historic house museum in 1967, Olveston is a time capsule as little has changed inside the house since it was occupied as a family home between 1906 to 1966.
Olveston is an authentic and original historic home depicting the life of a wealthy merchant family in the early part of the twentieth century.
奥维斯顿古宅及席欧明画廊
奥维斯顿古宅是为一位达尼丁商人、收藏家、慈善家大卫•席欧明和他太太及其两名子女爱德华、桃乐西所建。
这座宅邸由英国大名鼎鼎的建筑师厄内斯特•乔治爵士设计,陈列了主人从世界各地购买的名贵美术作品、家具和手工艺品。
主人本有心打算将宅邸留给席欧明后代享用,无奈一儿一女皆无后嗣。桃乐西•席欧明在其父亲、母亲及兄长相继去世后,一直住在奥维斯顿,直至她1966年去世,她将这座庄园及其所有陈设捐给了达尼丁城市。
自1967年对游客开放,这座历史性家庭博物馆概括了一段辉煌的时光,因房屋内部的装修和布置几乎保持自1906年至1966年主人一家居住的原样。
奥维斯顿是一座真实及原汁原味的历史性建筑,叙说着20世纪早期富有商人家庭的优渥生活。
オルヴェストン歴史上重要な家&セオミン美術館
オルヴェストン邸はダニーデン∙ビジネスマン、収集家、そして慈善家でもある、デイヴィット∙セオミン氏、マリー夫人、エドワード、ドロシーの二人の子供達の 為に建てられた。
イギリスで賞賛を浴びている建築家 アーネストジョージ卿のデザインです。
オルヴェストンは家族の家として建てられ、美術品、調度品、家具類等の必要な全ての設備が備わっています。家具調度品、手工芸品等は世界中を旅行した際購入しました。邸宅はセオミン家が将来、次の世代までも続き楽しんで貰うつもりでしたが、二人の子供達も跡継ぎがなく亡くなりました。父親が亡くなり、母親も亡くなり、ただ一人の兄も亡くなり、ドロシー嬢ただ一人が生存し1966年77才で亡くなるまでオルベストン邸で生活された。ドロシー嬢が亡くなった後、遺言書が発見され邸宅、オリジナル家具類全てをダニーデン市に寄贈された。
歴史ある邸宅博物館として1967年開館する。オルベストンはタイムカプセルの中に1906~1966年迄家族が生活していた当時と変わりなく保存されている。
オルベストンは富豪の家族の邸宅。そして20世紀 早期における正真正銘オリジナルの歴史ある家である。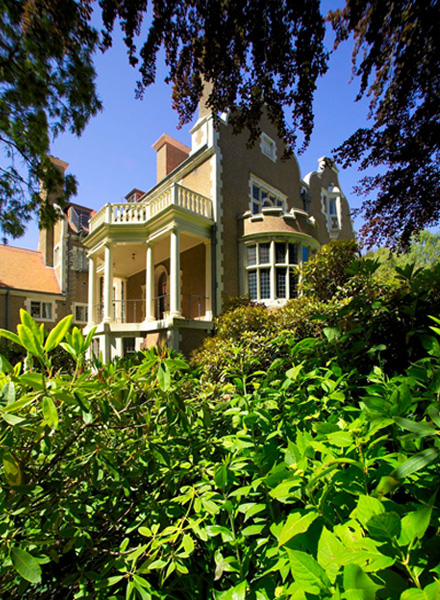 View up to the house from the lower garden.
Visiting Olveston
Olveston Historic Home opening hours are 9.30am to 5pm daily. For tour bookings phone 03 477 3320 or email
reception@olveston.co.nz
Olveston is open 364 days of the year, 9am - 5pm,
(Christmas Day only by prior arrangement).
Entry to Olveston is by guided tour only.
Entry to the gardens and gift shop is free.
Six 1-hour public tours commence daily at:
9.30 am, 10.45 am, 12 noon, 1.30pm, 2.45pm and 4pm.
(reservations are recommended).
The guided tour of the house takes one hour. To fully appreciate the garden in the season, the outside architecture and the family motor car (a 1921 Fiat 510 Tourer) and browse in the gift shop, then approximately 1 hr 15 min is recommended.
Guided tours of the house are managed up to 15 people per tour.
Tours using guides fluent in English, Cantonese, French, German, Japanese and Mandarin are available for group bookings (10 or more). Prior booking essential.
Olveston offers a programme of other events and special tours throughout the year. Visit our Events Calendar for more details about what's on.
Group Tour Options
1-hr and 2-hr group tours (for 10 or more) are available at other times (evenings included). If you are planning a group tour, consider adding Morning or Afternoon Tea as part of your visit. Please email or contact the house on 03 477 3320 to discuss catering options.
« — • — »
Car parking is available around Olveston, both all day parking and P90 (90 minutes parking). During the peak season, however, parking can be limited and it may be advisable to walk or take a taxi.
« — • — »
Responsible Tourism
Click here to read more about how Olveston Historic Home recognises the importance of responsibility towards the environment and in the tourism community.
参观奥维斯顿古宅
奥维斯顿每年开放364天,由早上9点至下午5点。(圣诞节需事先安排)。
进入奥维斯顿古宅均由导游带领。 参观花园及礼品店免门费。
每天均有六轮为时一小时的带队参观,参观时间为9:30分、10:45分、12点、1:30分、2:45分和4点(建议预订)。
由导游带队的室内参观为时一个小时。若加上自助游览观赏当季花园、室外建筑、私家老爷车(1921菲亚特510观光车)及参观礼品店,建议用时1小时15分钟。
室内参观导游团一次最多可带15人。
导游带队参观使用英语。
另外,团队预订(10人及以上)的,可由讲粤语或普通话导游带队。
奥维斯顿常年提供其它节目及特殊游览节目。详情请参照我们的行事历。
« — • — »
奥维斯顿周围有停车位,我们有提供停车证(120分钟)。如有需要,请于抵达时到接待处咨询。
オルヴェストン訪問
オルヴェストンは一年365日朝9時から午後5時まで開館(クリスマスは閉館するが、前もって予約がある場合のみ訪問可能)
見学はガイドツアーのみ 邸内のガーデン、ギフトショップは無料
ツアー1日6回、開始時間:9:30am、10:45am、12:00noon, 1:30pm、2:45pm、4:00pm(見学予約が必要)
邸内のガイドツアーは1時間。邸内、建物の外観、四季とりどりの草花が 咲く庭園の見学、家族が使用のクラシック車(1920年代のFiat510Tourer)が車庫に保存。ギフトショップ等全てを見学される場合には 1時間15分必要です。邸内ガイドツアー人数は1グループ15名まで。
« — • — »
ご予約の際、英語、日本語、北京語の専門ガイドが グループをご案内致しますので、お申し出ください(10人又はそれ以上)
Olveston Historic Home
42 Royal Terrace
Dunedin 9016
NEW ZEALAND
Phone + 64 3 477 3320
Fax + 64 3 479 2094
E-mail reception@olveston.co.nz
Top