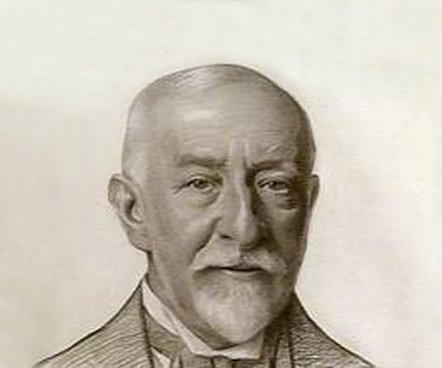 David Theomin
David Ezekiel Benjamin
David Ezekiel Benjamin, later known as David Edward Theomin, was born in Bristol, Gloucestershire, England, on 25 April 1852. His father, Joseph Benjamin, a Jewish Rabbi, had emigrated from Prussia earlier in the nineteenth century and discontinued the name of Theomin. His mother, Esther Braham, was Joseph's second wife, and he had two half-brothers, one half-sister, and one sister.
« 11 May, 1852 »
more on Moving to New Zealand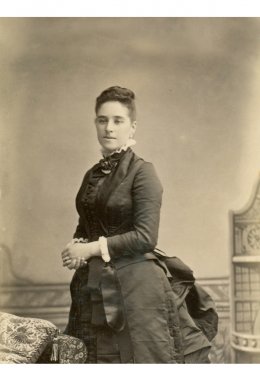 Marie Theomin (née Michaelis) 1855-1926, standing. [Tuttle & Co. Melbourne] Inscribed: "Melbourne 1880/81"
Marie Michaelis
Marie Michaelis was born on 12 October, 1855 and was the second child born to Moritz and Rahel [nee Gotthelf] Michaelis. A daughter born earlier than Marie did not survive so she became the oldest child in a big family of eleven others younger than herself. Mr Michaelis was a prominent Melbourne businessman who later joined with his nephew, Isaac Hallenstein in a tannery business at Footscray. The Michaelis family home called Linden still survives in St Kilda as a community arts centre, and a fine photograph of the house in its hey-day is on display in the reception area at Olveston.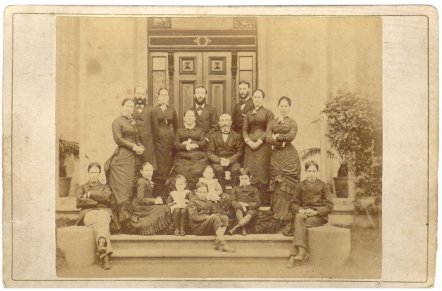 Michaelis family group on the steps of Linden c.1890
« 12 October, 1855 »
more on Moving to New Zealand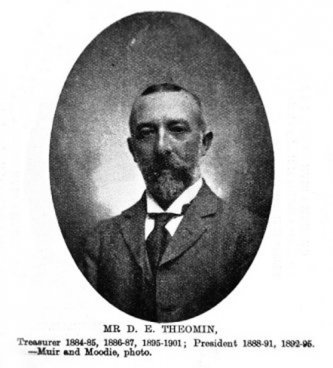 David Theomin
The year early years
David was educated at Wharton's School in Queen's Square and then, from January 1862 to December 1864, at Bristol Grammar School. After serving an apprenticeship in the hardware trade, he worked for three years for Platnauer Brothers, merchants.
« 1862 »
more on Moving to New Zealand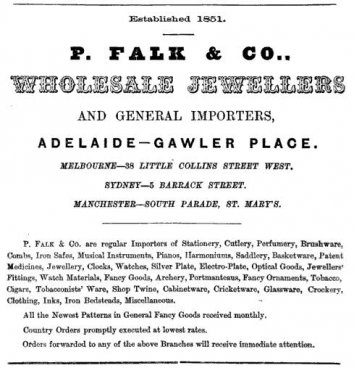 P. Falk and Company advert
Melbourne, Australia
In 1874 he sailed for Melbourne, Australia, where his half-brother, Abraham Benjamin, lived. There he worked for P. Falkand Company, wholesale jewellers.
David Benjamin first visited New Zealand in 1878. On 29 November he was shipwrecked near Tauranga on the steamer Taranaki, but no lives were lost.
By 1879 he was back in Melbourne, and on 21 January he married Mary Ann (known as Marie) Michaelis, eldest daughter of the successful businessman Moritz Michaelis.
« 1874 »
more on Moving to New Zealand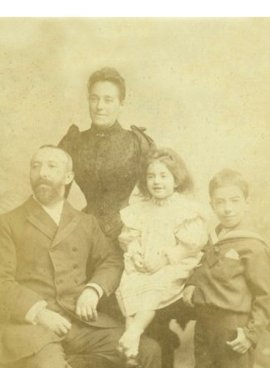 David, Marie and their children Dorothy and Edward
David Benjamin marries Marie Michaelis
It was in Melbourne David married Marie Michaelis , and at the end of 1879, the newly-weds had moved to New Zealand to establish a home in Dunedin.
Once established in Dunedin, David and Marie started a family. Their son, Edward Moritz Theomin was born 29 January 1885 and Dorothy Michaelis Theomin born 24 December 1888.
« 31 January, 1879 »
more on Theomin Family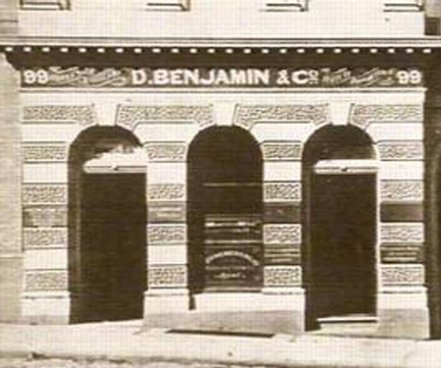 Benjamin and Co building, Dunedin
Benjamin and Company and the Dresden Piano Company
During the 1880's David Theomin established himself as a very successful businessman, developing the mercantile firm of Benjamin and Company and opening branches of his Dresden Piano Company throughout New Zealand.
His new-found success was shared with the community, particularly the Dunedin Public Art Gallery. This support complemented his passion for art. By 1900 his distinctive, enthusiastic style for collecting art, typical of the late Victorian era, was at its height.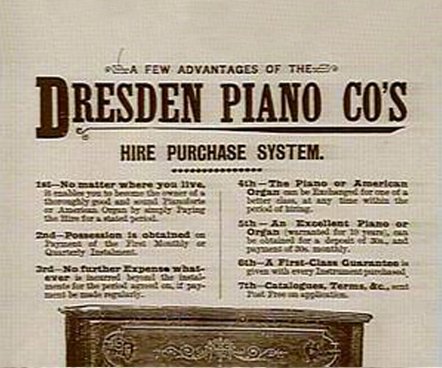 Advertisement for the Dresden Piano Company
« 1880 »
more on Moving to New Zealand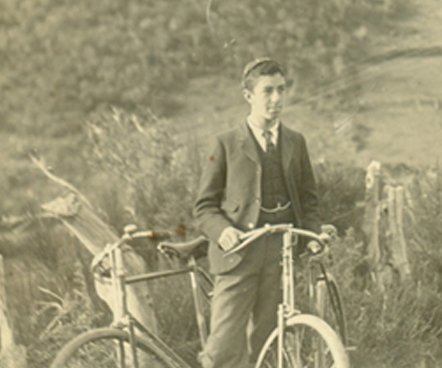 Edward as a young man
Edward Moritz Theomin
Edward, the only son of David and Marie Theomin was born on 29 January 1885.
He was educated at Otago Boys' High School (1899-1901). After leaving school, he took up employment in his father's business as a warehouseman. Edward was destined to follow in his father's footsteps in business but the Great War intervened and he was soon fighting for his country in France.
After the war he married Ethyl Moccatta in London before returning to Dunedin. It was a childless marriage. The war had taken its toll and by 1924 his health began to decline. He died in 1928.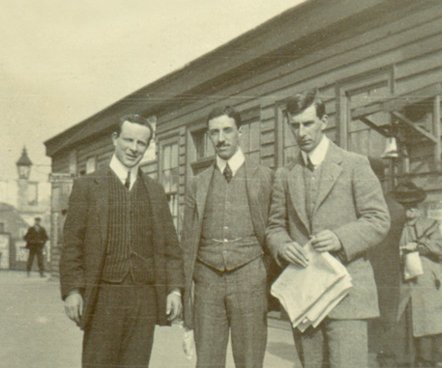 Edward (centre) with friends
« 29 January, 1885 »
more on Theomin Family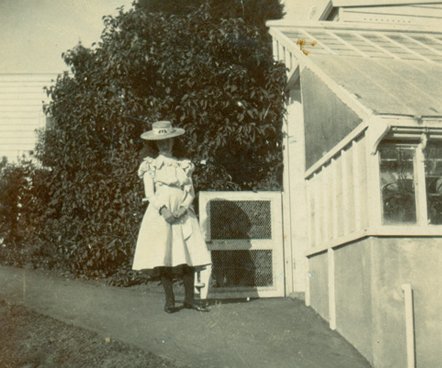 Dorothy in the garden at Olveston
Dorothy Michaelis Theomin
On 24 December 1888 Marie Theomin gave birth to Dorothy Michaelis Theomin.
Her early education was at Miss Miller's School, Braemar, Moray Place, Dunedin.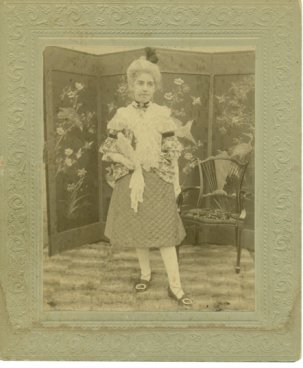 Dorothy in costume
« 24 December, 1888 »
more on Theomin Family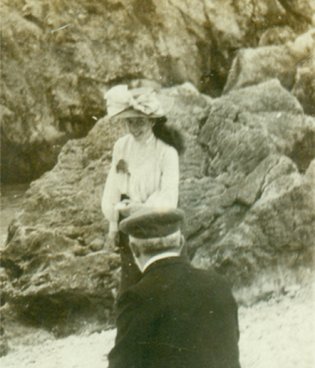 David and Dorothy by the beach c.1902
Travels overseas
In 1901 David, Marie and Dorothy travelled to Europe.
From New Zealand, they headed first to Australia, then to Hong Kong, China and Japan. From Japan, the family travelled through Canada before arriving in New York before crossing the Atlantic for England. In London, David attended the coronation of Edward VII on 9 August 1902.
In England, Dorothy was enrolled at the prestigious Independent Girl's School Roedean near Brighton, while her parents continued travelling in Europe.
« 1901 »
more on Theomin Family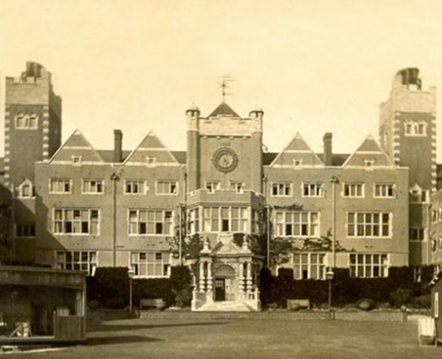 Roedean School for girls near Brighton c.1907
An English Education
Between 1902 and 1905, Dorthy studied at Roedean on the Sussex Coast, a new school founded in 1885 by Dorothy, Penelope and Millicent Lawrence. Roedean broke away from the stifling restraints of later Victorian education for women and encouraged its pupils to develop inquiring minds and self-reliance, both physical and mental.
« 1902 »
more on Dorothy Theomin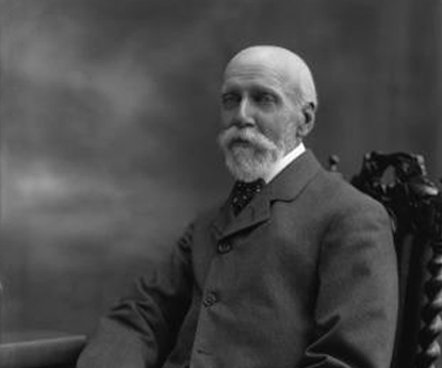 Sir Ernest George
Architect and the House
When Mr and Mrs Theomin set off on an extensive trip to America, Europe and the Far East in 1902, they were much taken up with the objective of building a fine home for themselves in Dunedin. In their search for an architect, they first looked at the work of a Canadian before they settled upon Sir Ernest George in the London partnership of Ernest George and Yeates.
While in London in 1903, the Theomins obtained working drawings from Sir Ernest George for a Jacobean-style mansion. Sir George's name is associated with Philip Webb and Norman Shaw among others, who greatly influenced.
« September 1902 »
more on Building the House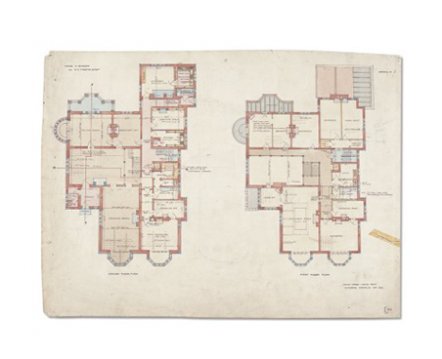 Original floor plans provided by Ernest George and Yeates Abbott, November 1903
Designing a family home
Sir Ernest George provided extensive drawings and designs for all aspects of the house, including stain glass window designs, joinery, the operations of the lift and layout of the servant call button system.
Copies of Sir Ernest's drawings are kept at Olveston.
« November 1903 »
more on Building the House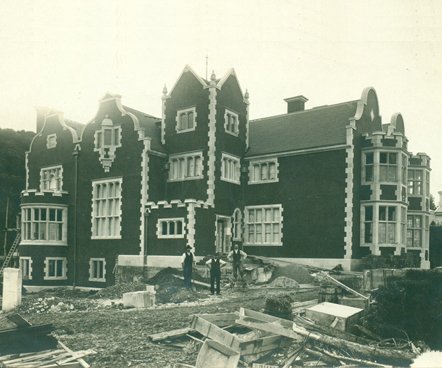 The building of Olveston c.1905
Building a family home
Olveston was constructed between 1904-1906 by Robert Miekle, with Mason and Wales supervising the project.
Built with every modern convenience, Olveston was fitted with central heating, a gas generator for electricity, a shower in each bathroom and heated towel rails, an internal telephone system and service lift.
The house had 35 rooms (including a vestibule, hall, drawing room, bedrooms, billiard room, card room (or Persian room), kitchen, scullery, butler's pantry, library and dining room).
« 1904 »
more on Building the House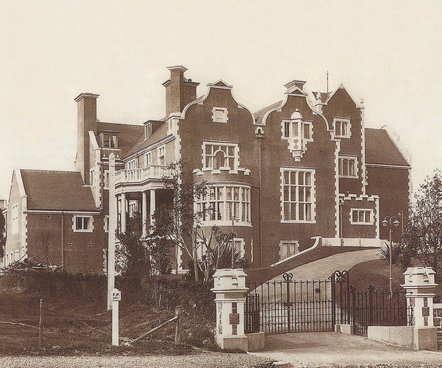 Olveston c.1906
'Olveston' 42 Royal Terrace, Dunedin
The London firm of Green & Abbott were responsible for much of the interior design, including the English oak joinery. The original wallpapers were manufactured in Buffalo, New York and selected by the Theomins on one of their trips to America.
The exterior walls of Olveston are constructed of brick and plaster with a Moeraki gravel finish and faced with Oamaru stone, finished with Marseilles roof tiles.
Soon after returning from their travels around Europe, the family move in to their new family home.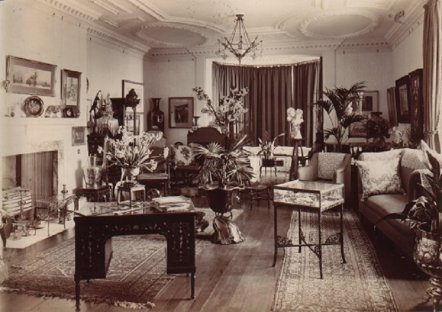 The Drawing Room c.1908
« 1906 »
more on Building the House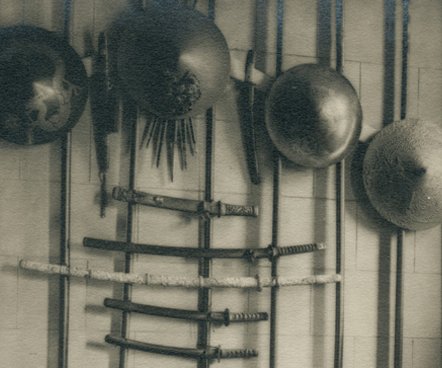 The vestible decorated with Japanese weaponry from the 17th and 18th century (image c. 1930)
Furnishing Olveston
During his lifetime David Theomin oversaw the collection to contain over 240 original artworks, many bronze statues, silver and gold objects of art and domestic items, antique furniture from Europe, America and Asia, Japanese cloisonné and ivory, Chinese jade and ceramics, a vast collection of 18th and 19th century Japanese weaponry to highlight a few areas of the collection.
The passion for collection was a family affair, with Dorothy continuing to furnish Olveston with art objects up until her death in the 1960s.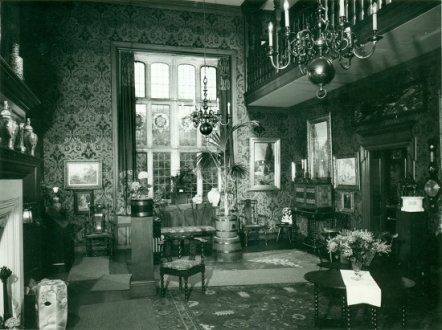 The Great Hall c.1910
« October 1910 »
more on Artifacts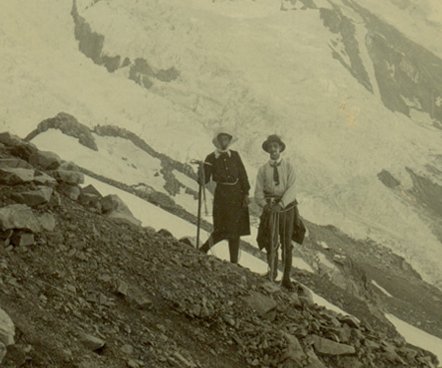 Dorothy and Edward Theomin climbing companion at the Haast Ridge Bivouac, March 1913, photographer: Jack Lippe
Dorothy and the Mountains
Dorothy was keenly interested in outdoor pursuits. As a member of the New Zealand Alpine Club, she climbed and tramped in the Southern Alps over many years.
Olveston has on display a record of her climbs and transits in the Alps. When her climbing days were over, she continued to spend time at Franz Josef and its environs where, during much of the year, the air was friendlier to her asthmatic condition than that of the East Coast.
Photography was one of her many talents and she was recognised as a skilled mountain photographer.
« 1913 »
more on Dorothy Theomin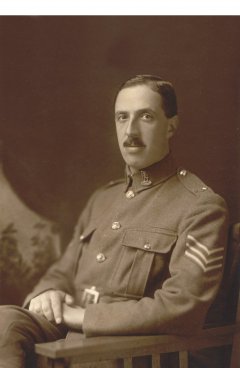 Edward in military uniform
Edward goes to war
In January 1917, Edward enlisted in the army and underwent training at Trentham during that year, earning his sergeant's stripes in September, attached to the Otago Regiment. He was posted overseas with the second draft of the 31st Reinforcements, sailing in the "Wallachia" in November 1917. By March 1918, he had been transferred to the Wellington Regiment and preceded to active service in France. For two months, he experienced field duty with No 1 New Zealand Infantry Battalion before being evacuated with bronchitis. He was back on active duty in Etaples late in May 1918.
« January 1917 »
more on Theomin Family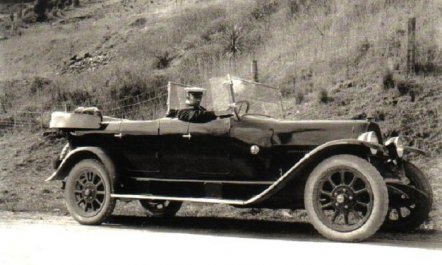 1921 Fiat 510 Tourer, purchased in 1922
1921 Fiat 510 Tourer
In 1922 Mr Theomin took delivery of a brand new Fiat 510 Tourer.
This limousine was a classic example of elegant European motoring. 3.4 litres of driving pleasure, the car was used by the Theomins for many journeys into Central Otago and up the east coast of the South Island.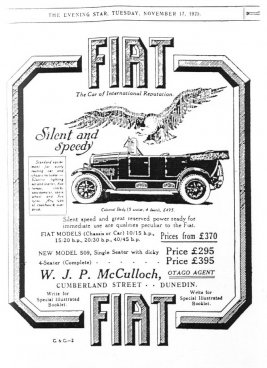 « 1922 »
more on Restoration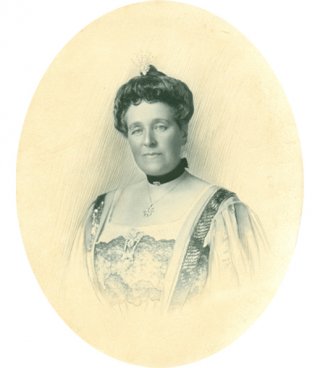 Marie Theomin (née Michaelis) 1855-1926, photograph: Dorothy Theomin
Marie Theomin dies
Throughout the last two decades of her life, Marie Theomin was occupied in a voluntary capacity with various public and charitable works.
Very soon after Olveston was completed, she was hostess at a small dinner party and the guests around the table were all influential in the formation of the Society which came into being about a month later on 14 May, 1907. She remained actively involved in the Plunket Society which became internationally famous for its work in support of mothers and young children.
Mrs Theomin died on 24 July, 1926 aged 71.
« 24 July, 1926 »
more on Theomin Family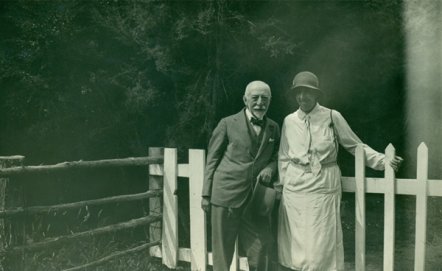 David and Dorothy
David and Dorothy
After retirement, David kept an active life, travelling and engaged in the arts, particularly the Dunedin Public Art Gallery. By 1900 his distinctive, enthusiastic style for collecting art, typical of the late Victorian era, was at its height. His wide interests in the arts also included a passion for music. He was a member of the Royal Dunedin Male Choir. He was also very engaged with the local Jewish Community.
« 1927 »
more on Theomin Family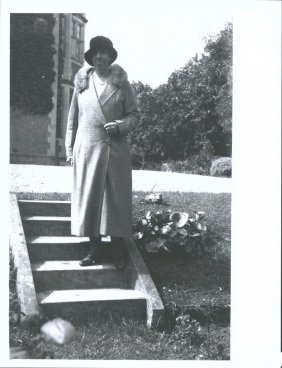 Dorothy Theomin in the garden at Olveston
Dorothy Theomin in the garden at Olveston
Dorothy Theomin in the garden at Olveston
Hocken Collection: ex-msf 1164 2-77-20
NZ Alpine Club Negative album Printed from original archive's negative.
« November 1930 »
more on Dorothy Theomin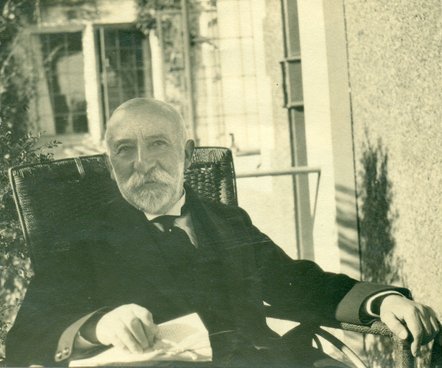 Daivd Theomin
David Theomin dies
David Theomin dies at Olveston on 15th July 1933, aged 81.
« 15 July, 1933 »
more on Theomin Family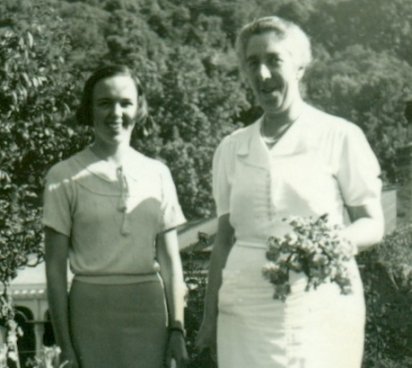 Dorothy and Lu Graham
Living at Olveston
After the death of her parents, Dorothy continued to live at Olveston.
She had an active social life and continued pursuing her personal interests in photography, climbing and riding.
Dorothy also took up many of the charitable causes supported by her parents including serving as a board member of the Plunket Society as her Mother. Dorothy also shared her Father's passion and interests in the arts, serving for many years on the board of the Dunedin Public Art Gallery Society and as patron and collector of contemporary art of the day.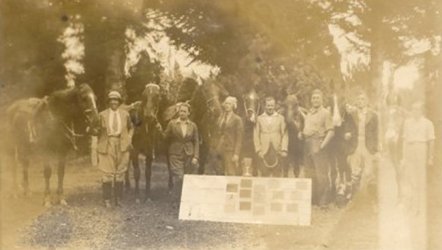 Dorothy (far left) with unknown riders
« 1937 »
more on Dorothy Theomin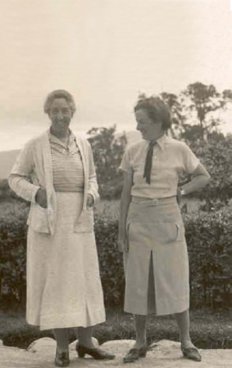 Dorothy and Margaret Graham, Franz Joseph 1935, photographer: Mark Lysons
Dorothy Theomin dies
Dorothy Theomin died on 11 October, 1966, aged 78.
In her will revealed that she had left Olveston and its contents in the care of the City of Dunedin, subject to certain conditions being met. There was a period of uncertainty as to whether or not the City would accept the gift and it was largely due to the energies of a group of Miss Theomin's friends that Olveston was finally accepted as a property fit to become an historic home open to the public. The property was to be administered by the Dunedin City Council and the Dunedin Public Art Gallery Society.
« 11 October, 1966 »
more on Dorothy Theomin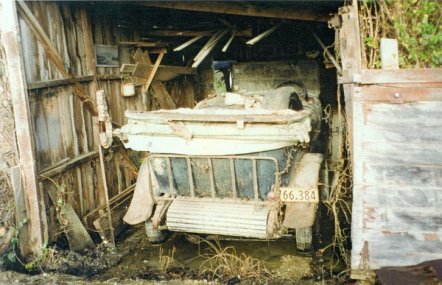 1921 Fiat 510 Tourer in 1994
Fiat Restoration
Some 72 years after it was purchased, the original Fiat was discovered, standing axle deep in water, in a derelict farm shed a short distance from Dunedin. The vehicle had not moved for over 33 years.
In 1994 it was transported to Christchurch, New Zealand and fully restored by Auto Restorations Ltd. The work took over 2 years. The Fiat was returned to Olveston in 1996 and is now maintained in tip-top running order.
« 1994 »
more on Restoration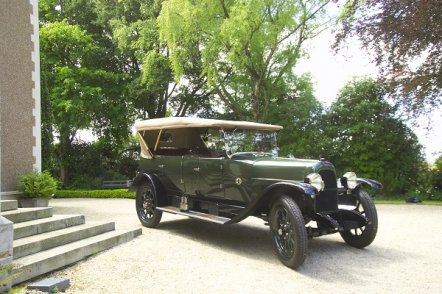 1921 Fiat 510 Tourer in 2008
Fiat Restoration complete
After 2 years and many hours of work, The 1921 Fiat 510 Tourer is returned to Olveston
« 1996 »
more on Restoration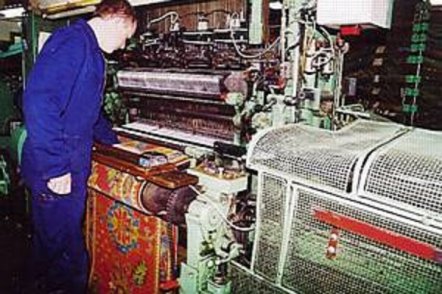 A carpet runner is machined by Feltex New Zealand for laying in the billiard room.
Caring for the collection
The care and conservation of the Olveston collection is an ongoing project at the house.
Visitors do not walk on original rugs and carpets but on authentically made reproductions.
During the 1990s, to ensure the 'lived in feeling' of the family home is preserved, while ensuring collection items are not damaged, using the original designs and colours for the reproductions, rugs and carpets at Olveston can be appreciated by visitors while the original items are preserved.
« 1997 »
more on Restoration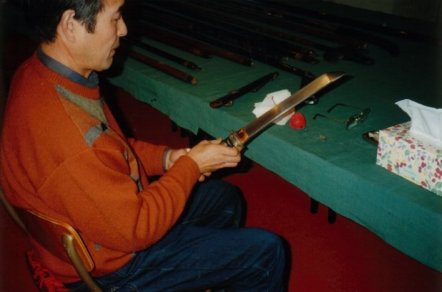 Japanese conservators inspect the Olveston weaponry collection.
Caring for the collection
The process of cleaning and protecting the collection at Olveston follows international museum best practice standards.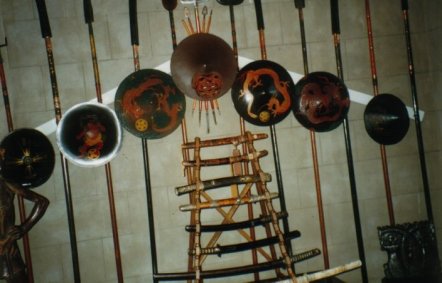 « 1999 »
more on Artifacts
Pre 1900s

The start of the Theomin legacy

1852

David Ezekiel Benjamin, later known as David Edward Theomin, was born in Bristol, Gloucestershire, England, on 25 April 1852. His father, Joseph Benjamin, a Jewish Rabbi, had emigr...

« 11 May, 1852 »

Marie Michaelis was born on 12 October, 1855 and was the second child born to Moritz and Rahel [nee Gotthelf] Michaelis. A daughter born earlier than Marie did not survive so she b...

« 12 October, 1855 »

David was educated at Wharton's School in Queen's Square and then, from January 1862 to December 1864, at Bristol Grammar School. After serving an apprenticeship in the hardware tr...

« 1862 »

In 1874 he sailed for Melbourne, Australia, where his half-brother, Abraham Benjamin, lived. There he worked for P. Falkand Company, wholesale jewellers. David Benjamin first visi...

« 1874 »

It was in Melbourne David married Marie Michaelis , and at the end of 1879, the newly-weds had moved to New Zealand to establish a home in Dunedin. Once established in Dunedin, Da...

« 31 January, 1879 »

During the 1880's David Theomin established himself as a very successful businessman, developing the mercantile firm of Benjamin and Company and opening branches of his Dresden Pia...

« 1880 »

Edward, the only son of David and Marie Theomin was born on 29 January 1885. He was educated at Otago Boys' High School (1899-1901). After leaving school, he took up employment in...

« 29 January, 1885 »

On 24 December 1888 Marie Theomin gave birth to Dorothy Michaelis Theomin. Her early education was at Miss Miller's School, Braemar, Moray Place, Dunedin.

« 24 December, 1888 »

1900-1930

The building of a family home

1900

In 1901 David, Marie and Dorothy travelled to Europe. From New Zealand, they headed first to Australia, then to Hong Kong, China and Japan. From Japan, the family travelled throug...

« 1901 »

Between 1902 and 1905, Dorthy studied at Roedean on the Sussex Coast, a new school founded in 1885 by Dorothy, Penelope and Millicent Lawrence. Roedean broke away from the stifling...

« 1902 »

When Mr and Mrs Theomin set off on an extensive trip to America, Europe and the Far East in 1902, they were much taken up with the objective of building a fine home for themselves ...

« September 1902 »

Sir Ernest George provided extensive drawings and designs for all aspects of the house, including stain glass window designs, joinery, the operations of the lift and layout of the ...

« November 1903 »

Olveston was constructed between 1904-1906 by Robert Miekle, with Mason and Wales supervising the project. Built with every modern convenience, Olveston was fitted with central he...

« 1904 »

The London firm of Green & Abbott were responsible for much of the interior design, including the English oak joinery. The original wallpapers were manufactured in Buffalo, New Yor...

« 1906 »

During his lifetime David Theomin oversaw the collection to contain over 240 original artworks, many bronze statues, silver and gold objects of art and domestic items, antique furn...

« October 1910 »

Dorothy was keenly interested in outdoor pursuits. As a member of the New Zealand Alpine Club, she climbed and tramped in the Southern Alps over many years. Olveston has on displa...

« 1913 »

In January 1917, Edward enlisted in the army and underwent training at Trentham during that year, earning his sergeant's stripes in September, attached to the Otago Regiment. He wa...

« January 1917 »

In 1922 Mr Theomin took delivery of a brand new Fiat 510 Tourer. This limousine was a classic example of elegant European motoring. 3.4 litres of driving pleasure, the car was use...

« 1922 »

Throughout the last two decades of her life, Marie Theomin was occupied in a voluntary capacity with various public and charitable works. Very soon after Olveston was completed, s...

« 24 July, 1926 »

After retirement, David kept an active life, travelling and engaged in the arts, particularly the Dunedin Public Art Gallery. By 1900 his distinctive, enthusiastic style for collec...

« 1927 »

1930-1960

Dorothy lives alone at Olveston

1930

Dorothy Theomin in the garden at Olveston Hocken Collection: ex-msf 1164 2-77-20 NZ Alpine Club Negative album Printed from original archive's negative.

« November 1930 »

David Theomin dies at Olveston on 15th July 1933, aged 81.

« 15 July, 1933 »

After the death of her parents, Dorothy continued to live at Olveston. She had an active social life and continued pursuing her personal interests in photography, climbing and rid...

« 1937 »

Post 1960s

The legacy of the Theomin Family

1960

Dorothy Theomin died on 11 October, 1966, aged 78. In her will revealed that she had left Olveston and its contents in the care of the City of Dunedin, subject to certain conditio...

« 11 October, 1966 »

Some 72 years after it was purchased, the original Fiat was discovered, standing axle deep in water, in a derelict farm shed a short distance from Dunedin. The vehicle had not move...

« 1994 »

After 2 years and many hours of work, The 1921 Fiat 510 Tourer is returned to Olveston

« 1996 »

The care and conservation of the Olveston collection is an ongoing project at the house. Visitors do not walk on original rugs and carpets but on authentically made reproductions....

« 1997 »

The process of cleaning and protecting the collection at Olveston follows international museum best practice standards.

« 1999 »
"To New Zealand it is unique. It can do what few houses can today, namely, display 'the cluttered charm of an Edwardian country house' and it does. "

John Borrie, 1980 - 'Olveston' by John Borrie. 1987, 7th Edition.

"This is an extremely interesting and grand house … This is the first time I have seen any of his [Sir Ernest George] work outside of England … It is a very grand home. "

Sir Nikolaus Pevsner. 1957 - 'Olveston' by John Borrie. 1987, 7th Edition.

"The table was most beautifully decorated with exquisite Bohemian glass vases, bonbon dishes and menu holders all to match while the lights were softly shaded ... "

Otago Witness. 1907.

"Had tea with the Theomins this afternoon … he has given me a £15 commission for a Tangier picture. He has been a most kind and generous patron. "

Frances Hodgkins. 1902 - Dorothy Theomin of Olveston by Margery Blackman. 2007.

"Let things be done shipshape and Bristol fashion "

David Theomin - Bookplate

"This house represents a "way of life" for a successful few in the first hundred years of New Zealand as a nation 1840-1940. Mansion House at Kawau Island was probably the first. 'Olveston' was the last, and most splendid. "

Dunedin Public Art Gallery Council - 1967.

"Culturally and aesthetically unique, Olveston is worthy of preservation "

Dr Charles Brasch