Getting to Olveston and Preparing for Your Visit
Location
Olveston
The Theomin Gallery
Historic Home and Collection
42 Royal Terrace
Dunedin 9016
NEW ZEALAND
Phone + 64 3 477 3320
Fax + 64 3 479 2094
E-mail reception@olveston.co.nz
Hours
Olveston is open 9am - 5pm, 7 days
(closed Christmas Day).
The gardens and gift shop at Olveston are open to the public free of change.
Directions
By Taxi

from the Octagon:
Taxis ranks are available outside the Dunedin Centre, a taxi journey will take approximately 5mins.
Dunedin Taxis

03 477 7777

City Taxi

03 477 1771
By Car

from i-Site (next to the Octagon):
Drive uphill along Stuart Street towards Moana Pool.
Take 5th right – London Street
Take 1st left – Royal Terrace. Olveston is located on the corner of Royal Terrace and Cobden Street
Car parking is available around Olveston, both all day parking and P90 (90 minutes parking). During the peak season, however, parking can be limited and it may be advisable to walk or take a taxi.
On Foot

from i-Site (next to the Octagon):
Walk towards the Municipal Chambers (DCC Council Offices)
Turn right – Municipal Lane (140 m)
Turn left – Moray Place (21 m)
Turn right – Filleul Street (61 m)
Turn left – Howells Lane (110 m)
Turn left – York Place (6 m)
Turn right – up the stairs and footpath along Haddon Place (230 m)
Turn right – Royal Terrace, Olveston is on the left (400 m)
Note
The walk to Olveston is mostly up hill (the ascent is of modest difficulty).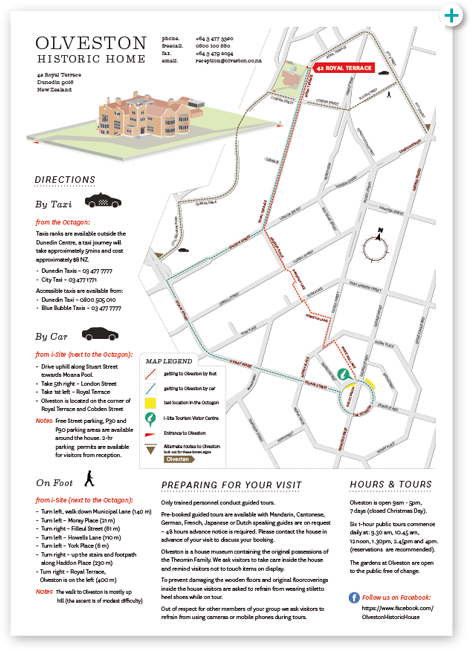 Visiting? Print off this map
above or take it with you (as PDF)
on your mobile device!
Click to download MAP
Download PDF (146 KB)
Preparing For Your Visit
Access to Olveston Historic Home is by guided tour only.
Pre-booked guided tours are available with Mandarin, Cantonese, German, French or Japanese speaking guides are on request – 48 hours advance notice, minimum numbers required. Please contact us for more details.
Olveston contains the original possessions of the Theomin Family. We ask visitors to take care inside the house and remind visitors not to touch items on display.
To prevent damaging the wooden floors inside the house visitors are asked to refrain from wearing shoes with a small heel.
Visitors are welcome to take photographs in the garden, but no photography is allowed inside the house.
Wheelchair access to Olveston house:
People with a manual wheelchair can view the ground floor of Olveston Historic Home. They will then need to view the upstairs on the DVD at reception, as Olveston does not have a lift.
Olveston is not accessible to electric wheelchairs. A manual wheelchair is available for guests to use.
Wheelchair access to Olveston grounds:
There is one step at the Royal Terrace entrance gate, but we have a portable ramp just inside the gate on top of the box on the left that can be used if necessary. There is a path and then a ramp up to the reception door and one small step to access the house.
There is access to most of the grounds with path, pebble driveway and grass the main covering. There are some steps on one side of the house which would not be suitable for people in wheelchairs.
The Olveston internal toilet has had railings added so it is now a wheelchair accessible toilet. Please allow wheelchair users and other disabled visitors to use the staff toilet.
« — • — »
Top