Hats on at Olveston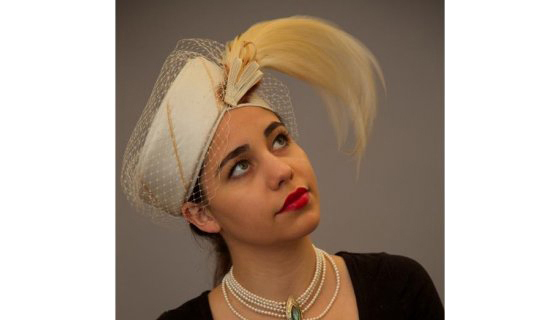 Anyone looking at photographs of social events of a century ago would have to be impressed by the range of hats worn by those assembled in front of the camera. Few of us would think of the ingenuity required to style their headwear or the labour required in its making. Manufacture seems like a cold word to describe these beautiful and somewhat frivolous items but there was indeed a hat making industry in Dunedin, as well as individual milliners who designed, made and sold bespoke hats.
A reminder of the importance of hats to the society of Olveston's day stands in Stafford Street where Ross and Gledinning's Costume and Mantle, Felt and Straw Hat Manufactory employed over eighty staff to make and decorate inexpensive hats for everyday wear. These were made of woven straw imported from China as well as felt and fur. The whole process was carried out on an industrial scale with steam powered presses moulding hats over wooden and metal blocks. The partly finished hat was then dispatched to workers who would fit linings and trim. Buyers would make seasonal trips to London and Paris to return with samples and illustrated magazines were pored over for the latest fashions.
Individual hat makers also thrived in Dunedin where the southern version of 'polite society', supported by major New Zealand businesses and the university, was encouraged to look smart. Known as "The Society Milliner", Queenstown born Lindsay Kennett rose to prominence making the hats for the recently crowned Queen Elizabeth during the 1953/54 Royal Tour. Following the tour he opened his exclusive salon in Parnell, Auckland, which he ran until his retirement in the late 1980s. Lindsay's return to Dunedin brought a life time's knowledge and passion for hats which he generously shares with the public.
Olveston invites you to return to this lost period of grace and elegance with 'Hats On Royal' – The New Lindsay Kennett Collection, supported by jeweller Chris Idour and evening gowns from the Tania Carlson Fashion Collection. On Thursday 6 November, guests will mingle in the Olveston garden before models parade in hats and gowns in the Grand Hall. The event will be followed by light refreshments and the opportunity to view Lindsay Kennett's fashion illustrations.